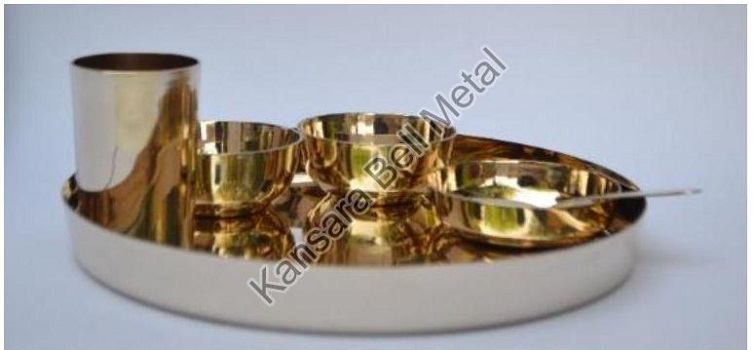 There are many metals and raw materials from which we can have exceptional dinner sets for our home. It signifies the charm of many old five-star hotels as well. Even some people use such sets to retain the family culture and use it in some rituals as well.
Nowadays we do not directly prefer Bronze Dinner Set as we already get non-sticky dinner set at a low price. But that also generalise the fact that we are aware of its health benefits and reliability over the period.
There are numerous benefits, not only in health but also in decorating the kitchen room with beautiful dishes, glasses, and spoons. Because of its wide range of compatibility and feasibility, we again welcome Bronze Dinner Set Supplier in Rajasthan. It has helped many small businesses and Rajasthani manufacturers to get their old fame back.
We could not see such beautiful crafts unless we had realised their aesthetic appeal in the Jodhpur market. The dinner set consists of a few small bowls, a thali, a tumbler, or glass with a beautiful, polished finish. Even we cannot ignore its shine after a few years of rough use.
Presentation of Bronze Dinner Set in India:
India is known to reshape its ethics and traditional culture be it in monuments, crafting pieces, and buildings. The same goes with the kitchen equipment and royalty in lunch & dinner sets.
How we can forget the fact that we belong to this Rajput culture when kings and queens used to drink in big vessels and bronze glasses. Apart from this, the royal Rajasthani lunch thali still memorizes many old facts and takes us back into the tenth century.
It has been the affair of the millennium with such a precious dinner set. Such architecture and glorious art in kitchen utensils represent Rajasthan as a whole. We would get many wonderful crafts and artisans as well. The Bronze Dinner Set Supplier in India has reached the global doors and arrive don the big stage.
All is due to their immense effort to take this art back to India. While using other utensils, we may prefer a bronze set as well to give a health boost with nutritious food. Global stores are even preferring the same things like a lot of buying opportunities would come from Europe, America, and other continents.
While it is not something new for us, it is a new launch for global markets. They cherish and recognise the product for its aesthetic beauty and royal shine.
The maintenance is as easy as you do with non-sticky aluminium or steel sets. Just you need to rub the portion of the utensils with a scrubber and detergent. It does not seek any frequent wash and is a good source of minerals in our daily diet. We will get benefitted from the approach.
While the world is already amazed by the art, we must be ready to appreciate the Bronze Dinner Set Supplier. India is proud of the fact that such an old culture is fully revived even in this down-market situation.
Get into the latest facts and more valuable information about bronze sets. Further evolution is also expected if any significant change in material and price is there.